seiya
Administrateur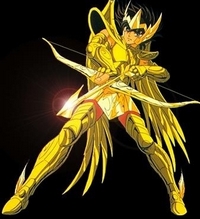 Hors ligne



Inscrit le: 05 Fév 2010
Messages: 76

Posté le: Lun 8 Fév - 16:40 (2010)

 

   Sujet du message: bien forger ses arme

---

Forge est un excellent moyen pour les joueurs d'améliorer leurs armes et armures.
Key Facts about the Forging System Faits importants sur le système de forge


Attributes:

Attributs:


Four attributes can be increased through forging: Hit Points, Magic Points, Attack and Defense. Quatre attributs peut être accrue par forgeage: Hit Points, points de magie, d'attaque et de défense. Different equipment has different forgeable attributes. Différents équipements ont différents attributs infalsifiable. For weapons, helmets, and cuffs, attack and defense attributes can be increased by forging. Pour les armes, casques, et les poignets, les attaques et les attributs de la défense peut être augmenté par forgeage. For chest armor, leg armor, and boots, Hit Points and Magic Points can be increased by forging. Un plastron, des armures de la jambe, et des bottes, Hit Points et des points de magie peuvent être augmentés par forgeage.


Bonus Levels Achieved by Forging:

Niveaux bonus obtenus par forgeage:


Armor and Weapons will increase by 1 level after each successful forging. Armure et armes augmentera de niveau 1, après chaque succès forgeage. Each time an item is forged, the forging bonus will increase one level. Chaque fois qu'un élément est falsifié, le bonus de forge augmentera d'un niveau. The forging bonus will be +2, +3, and so on up to 20. Le bonus de forge seront +2, +3, et ainsi de suite jusqu'à 20.


Success and Failure:

Success and Failure:


Forging is not without risk. Forger n'est pas sans risque. If the forging is successful, the armor or weapon's attribute will be increased. Si la contrefaçon est réussie, l'armure ou un attribut arme sera augmenté. Otherwise, the armor or weapon will vanish. Sinon, l'armure ou l'arme, ils disparaîtront.


Shine:

Shine:


Armor and weapons are likely to shine after forging. Armure et les armes sont susceptibles de briller après forgeage. Depending on the forging level, the color of the shine will be different. Selon le niveau de forge, la couleur de la brillance sera différent.
No shine: +1 to +3 N Shine: 1 à 3
White: +4 to +6 Blanc: 4 à 6
Blue: +7 to +9 Bleu: 7 à 9
Green: +10 to +12 Vert: 10 à 12
Orange: +13 to +15 Orange: 13 à 15
Red: +16 to +18 Rouge: 16 à 18
Purple: +19 Purple: +19
Black: +20 Noir: 20


Charms:

Charms:


Certain charms are available that can help ease the forging process. Certains charmes sont disponibles qui peuvent aider à faciliter le processus de forgeage.
The Craftsman's Charm increases your chance of success while forging. Augmentations de Charme de l'Artisan vos chances de succès tout en forgeant.
The Advanced Craftsman's Charm will improve the odds of a successful forge even more than the Craftsman's Charm. Le charme de l'Artisan avancée permettra d'améliorer les chances de réussite de forge encore plus que de charme de l'Artisan.
The Forging Safety Charm will prevent an item from vanishing after an unsuccessful forging attempt. La Forge de sécurité Charm permettra d'éviter un point de disparaître après une tentative infructueuse de forgeage.
Process: First go to either "Forging Voucher Smith" or "Smith Zang Hou". Processus: aller d'abord à soit "Forging Bon Smith" ou "Smith Zang Hou». After that, select the option "Forge" put in the equipment you want to forge and the smith will tell you what materials/vouchers you need. Après cela, sélectionnez l'option "Forge" mettre dans le matériel que vous voulez forge et le forgeron vous dira ce que les matériaux / pièces justificatives dont vous avez besoin.
At the Smith Zang Hou you need materials to forge while at the Forging Voucher Smith you need forging vouchers. Au Hou Zang Smith vous besoin de matériaux pour forger tout Smith Voucher Forgeage vous avez besoin Bons forgeage. You need to have the materials listed in your inventory and equipment you want to forge in the forging box. Vous devez avoir les matériaux énumérés dans votre inventaire et l'équipement que vous voulez forger dans la boîte de forgeage.


For example:

You want to forge a level 1 weapon.

Par exemple:

Vous voulez forger une arme de niveau 1. You put in the weapon and when you have the materials in your inventory just choose what bonus you want to have and click one of the buttons. Vous mettez dans l'arme et quand vous avez les matières dans votre inventaire, il suffit de choisir ce bonus, vous souhaitez avoir et cliquez sur un des boutons.